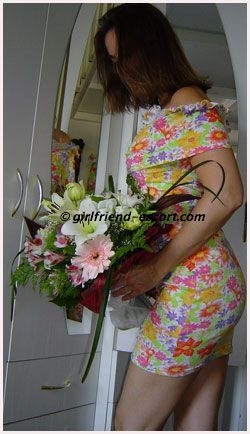 "Style is the only luxury what everybody can afford himself."
- Armani -

MY BIOGRAPHY

Affiliation
independent

Nationality
world citizen

Status
happy single without "baggages" ;)

Education
university diploma

Availability
As a European escort I`m currently based in Budapest/Hungary from where can travel worldwide - by personal request / all year round (incl. holidays).

Abilities
I have professional experience in a number of fields, including education, tourism and public relations. I also have knowledge of psychology, international law, diplomacy and assistance at any public events as I am an excellent conversationalist, skilled entertainer and confident around refined men. I have traveled the world, I am cosmopolitan and speak a few languages.

Philosophy
Important is to me not what we do, but how do we do it. And bad are those who think bad. ;)

Policy
Nothing has to happen but anything can. Even this: Straight to Number One - Touch and Go

3 "golden rules"
Enjoying freedom, make the most out of the time, and living in the most pleasant way possible.

Personality
I have a gentle soul but I burn with the fire. I am fascinated with life and adventures. I`m enthusiastic and get easily excited by just about everything. I am a keen listener as well as love to learn and have a thirst for knowledge. I am NOT generic NOR am I conventional. I am confident but neither conceited nor arrogant. I am a free spirited, exclusive but friendly courtesan. I have great manners and expect you to have the same. I`m known to be a reliable and honest person. I am also neat and well organized. I am being reflective, like a mirror.

Interests
I am interested in all that is good and nice in life ranging from traveling and cultural events (sight-seeing, excursions, art, museum, theater, musical, opera, classical or pop concert, shows) through outdoor activities (beach life, yachting, scuba diving, wellness, trekking, skiing) up to entertainments (dining out, dancing, partying, shopping, casino) and more... :)

Likes and dislikes
I LIKE being feminine, Gentlemen of the "old school", gallantry, politeness, subtlety, forthrightness, honour, respect, positive attitude, optimism, brainy people, meaningful conversations, intelligence, philosophy, psychology, aphorisms, writing, Saint Exupery's Little Prince, Matrix, Mozart, Beethoven, art, opera, jazz, theater, dancing, traveling, castles, nature, mountains, safaris, summer, sea, islands, metropolis and it`s cosmopolitans, NYC, Caribbean, Africa, Cote d' Azur, dining out, seafood, sushi, gourmet cuisine, fireplace, swimming, wellness, sauna, massage, energies, sport events, laughing, innocence of children, compliments, charm, seeing the desire in your eyes, passion, seduction, sensuality, tenderness, pampering, sex, Latin temperament, luxury, elegance, aestheticism, flowers, high hills,...
I DISLIKE stupidity, dry brains, narrow mindedness, negative attitude, misery, intrigue, mediocrity, hypocrisy, arrogance, vulgarity, brutality, abuse of power, pain, fanatics, addictions, manipulation, meaningless promises, deceit, exploitation, lies, bargains, people who judge and condemn without complete knowledge, snobbery, prudery, boredom, "golden cages", feminism, those who have lost the "child inside", people who chew with an open mouth, munching, bad hygiene, body odour, bad breath, rap, candies, coffee, cooking, fat, smokers, pollution,...

Appearance
I have brown eyes, soft brown hair and a petite figure. Have no fake body parts (neither tattoo, nor piercing) just my pure nature. And I am very proud of my femininity. As they say, I may not be twenties anymore but that makes me so damn sexy. ;)
Measurements: 162cm/50kg (5'3/110lb) ; 80B/68cm/84cm (36B/26/36).

Wardrobe
I can be modest or elegant & smart; conservative & discreet or sexy & provocative; casual & sporty - what ever is required.

Smoking and drinking habits
I'm a non smoker, only drink occasionally and socially. I therefore welcome the same type of Gentlemen.


MY SERVICES

I offer a comprehensive escort service as I can join you at any occasion and location in the world or host you in Budapest, Hungary. I provide a girlfriend type of companionship and as such, can organize your free time, be handy at any business or social functions, assist in your activities, accompany you to different events, family gatherings, give relationship advices or life skills guidance. I cater to business people, who wish to have a great time after work, or to tourists who need personal assistance, guidance during their vacation. I look after top-class people who need special attention, therefore loyality, discretion and integrity are my most important traits besides health. While most people can not understand why professionals - who have such a busy and stressful life - pay to alleviate their various urges, I am their helpful partner. According to Ayurveda, "Nothing can ameliorate the man's performance more than a woman."

As a sensual, seductive and delightful woman I am perfect for that magical "girlfriend experience". I am that rare creature, a natural girlfriend. It takes over my mind, soul and my body. And when the evening comes, I become hot and spicy! I will make your day! :) Mutual satisfaction is paramount to me. I can also relax and rebuild your erotic energy with tantric massage. I enjoy the alternative lifestyles of naturism, nudism, hedonism, voyeurism, swinging, erotic photography and home video. I am open for everything that gives both of us pleasure and enjoyment. I'm also adventurous and like to try new things, so if you have a special request, please let me know it. However, there is no need to discuss inappropriate explicit details.